I am so fracking happy about this! Always Sunny in Philadelphia is the FUNNIEST SHOW on TELEVISION!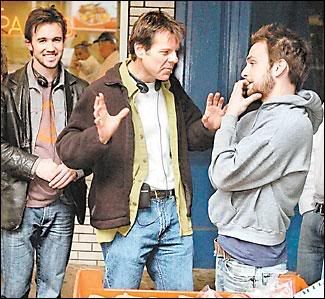 One member of that team, creator-star Rob McElhenney, is pretty much blown away with the casting of DeVito. "When John gave me the news that Danny agreed to join the show, I thought it was a joke," McElhenney says. "Getting the news from FX that our show got a second season pickup was fantastic. Getting the news that Danny has signed on to co-star feels like we just hit the lottery."
Seinfeld for the new millennium
Dave Chappelle channeled by sharp white boys
Awesome irreverancy
From the first episode where the kids tackle racism, my hand was permanently over my mouth blocking both the screams of delight and gasps of

OMG, I CAN'T BELIEVE THEY JUST DID THAT
Granted I was lucky, I believe both
Starved and Always Sunny
premiered the same night or week, and many watched Starved but not Always Sunny In Philadelphia...whereas I watched Always Sunny first, lucky me.
Variety agrees, Always Sunny In Philadelphia is the show you should be watching