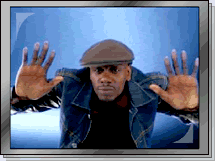 Comedy Central suits have fired off a popgun in an effort to frighten Dave Chappelle back to the table to talk about the aborted third season of his "Chappelle's Show," announcing that sometime in the second quarter of '06 it will telecast the sketches he shot before pulling a Cat Stevens and dropping out.
Chappelle told Time he took that first break because he felt the show had moved from sending up racial stereotypes to reinforcing them.
When he returned, however, that had not changed, according to his writing partner at the time, Neal Brennan. Brennan told Time that Chappelle would like an idea; it would be shot, but Chappelle would then say, "This sketch is racist, and I don't want this on the air."
"He was calling his own writing racist," Brennan said.
-Washington Post
I am not surprised Neal said as such, I can only imagine the pressure on Dave after being the front man for a bi-racial writing team. I think as more details emerge we'll understand more about their complicated writing relationship. One of the biggest reasons the show was so successful was the ability to reach both white and black audiences...only problem?

They were laughing at different things.