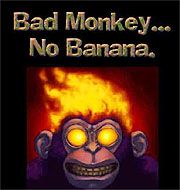 The author told me the ruling was the legal equivalent of a rather loud fart in church, something very exciting to the legal community.
To Sum Up
---
What do the words
Monkey Trial
mean to you? I was first taught the
Scopes Monkey Trial
was something beyond evil, for years pulpits denounced it as "the beginning of the end".
This is the word I grew up on, and the words I first rebelled against.
Yet as the above author has pointed out, all my rebellion got mixed up in some big
not-really-a-"conspiracy"
ball of wax
(Life sucks for those not white, rich, american, male, straight, gender conforming & etc
A.K.A. LET IT ALL BURN
).
Am I against bans in general?
I do so hate appreciations of systemic constructions.
Yes, I know this
may
seem irrational...but maybe in the end it's all a cycle of desecration and creation.
Which has nothing to do with science!
(giggle)