Thank you to
The Daily Beast for covering the continuing saga that is the blocking of the word bisexual
on the internet. For those without
memories like mine
, a look back on previous bans of the word bisexual online.
GOOGLE BANS BISEXUAL (2009 - 2014)
We aimed for #badbisexualface here, me and Tara Avery, longtime bi trans advocate, cartoonist and publisher. This image was used by Pasadena Star News in 2014 as part of their story.
"
Google's Bisexual Problem
", HuffingtonPost.com (by me, Faith Cheltenham)
"Google restricts 'bisexual' from autocomplete because of correlation to pornography"
, Pasadena Star News
"Google Autocomplete Still Blocking 'Bisexual': LGBT Advocates Fight For Fair Treatment Of Search Terms"
, International Business Times (with a helpful quote from Jeff Hermes, director of the Digital Media Law Project at Harvard University).
"Google still blocking the word 'bisexual' from autocomplete"
, PinkNews
APPLE BRIEFLY BANS BISEXUAL (2013)
(see
Sarah Prager, Quist co-founder's petition
)
"App maker petitions Apple to remove 'bisexual' from flagged list"
, Baltimore Sun
"
Apple Discourages Educational App From Using The Term "Bisexual
", BuzzFeed
TWITTER BANS BISEXUAL (2017)
"Twitter Is Still Making 'Bisexual' Invisible, and Won't Say Why"
, The Daily Beast
"Twitter apologises for 'technical issue' that blocked searches for 'bisexual'"
, The Guardian
"Twitter is fixing an error that removed 'bisexual' from news and photo search results"
, The Verge
"
Search for 'Bisexual' on Twitter Right Now, and No News, Photos, or Videos Show Up [Updated]
",
WHAT I CONSIDER THE GOOD NEWS FOR THE MOMENT
Huge massive response led by @stillbisexual, @binetusa, and many others! News articles aplenty! AND, THE BEST NEWS? Prior images from bisexuals are still on the Twitter media server as evidenced by the media links from #biweek still serving beautiful bi, pan, fluid and queerness.
Like 2016's most popular image, our home page for bisexualweek.com, which takes on new meaning today: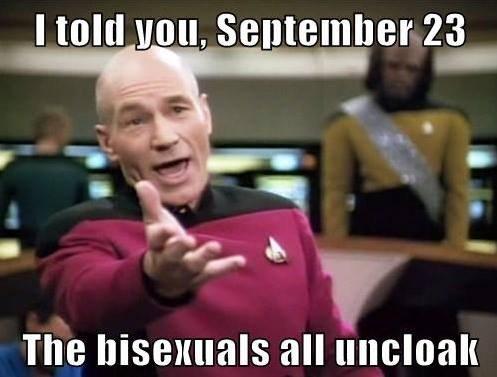 I've embedded the spreadsheet below and you can download this sheet
here
in case you delight in bisexual images of proud bi people and their cats, owls, and kids as much as I do.
Don't Forget...the Bisexuals
Millions of bisexuals await the opportunity to be seen using their name, so please
sign the petition to Twitter
as created by bi trans non binary rock star
Jen Yockney, MBE
, the longtime bi organizer who runs
bivisibilityday.com
.
Here's hoping this is the last time we'll have to scream and plan protests to reclaim the very use of our name!
#EndBiBans